Harmonica from Armin Liebmann, Gera, around 1910
This harmonica rarity is a good example of the fact that many accordion manufacturers also had harmonica products on offer. It does not come from one of the large factories in Klingenthal or Trossingen.
Armin Liebmann was an accordion manufacturer from Gera / Thuringia, where an early center of accordion construction was located in the 19th century. Liebmann was one of many and by far not the largest manufacturer. According to current knowledge, he produced from the late 19th century to the mid / late 1920s (at least 1889 – 1924).
The Liebmann catalog contained in the museum archive about "Excelsior & Star Accordions", valid for "1905 – 1907", also lists some harmonica models on the back pages, so to speak, by the way.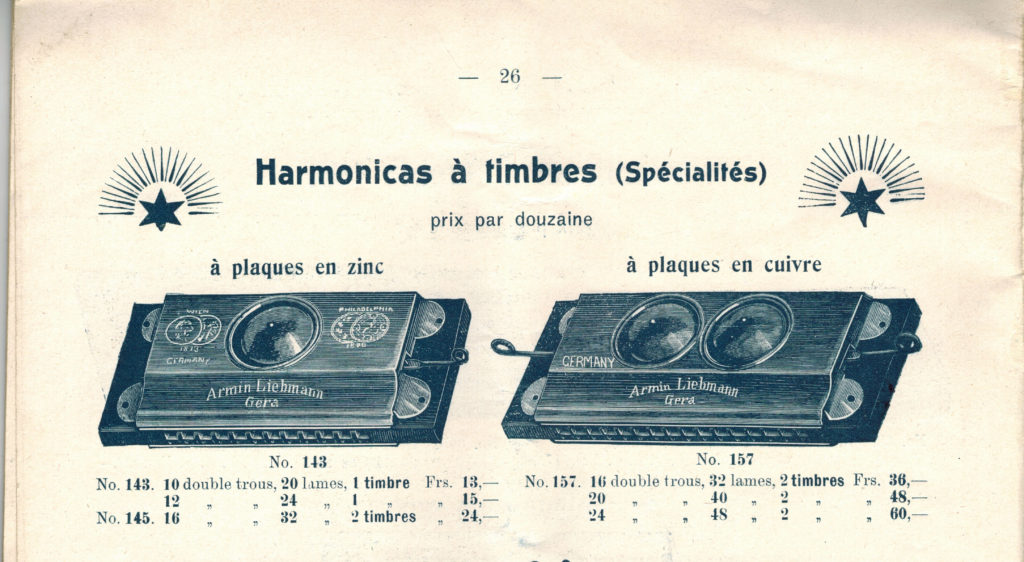 The 24-notes harmonica with slightly indented brass ceilings is obviously incomplete. The illustrations on page 26 of the catalog mentioned reveal the original design and function: in the punched-out center of the upper ceiling was a kind of miniature sheet metal drum that could be operated with a rocker arm (spring mechanism). The whole thing was certainly not as sonorous as the well-known harmonica with bells; just a simpler way of generating intermediate or accompanying tones to the harmonica.